We made our to Greenville, SC, a charming city perhaps best known for its youthful, vibrant downtown, and met up with family for a fun-filled week.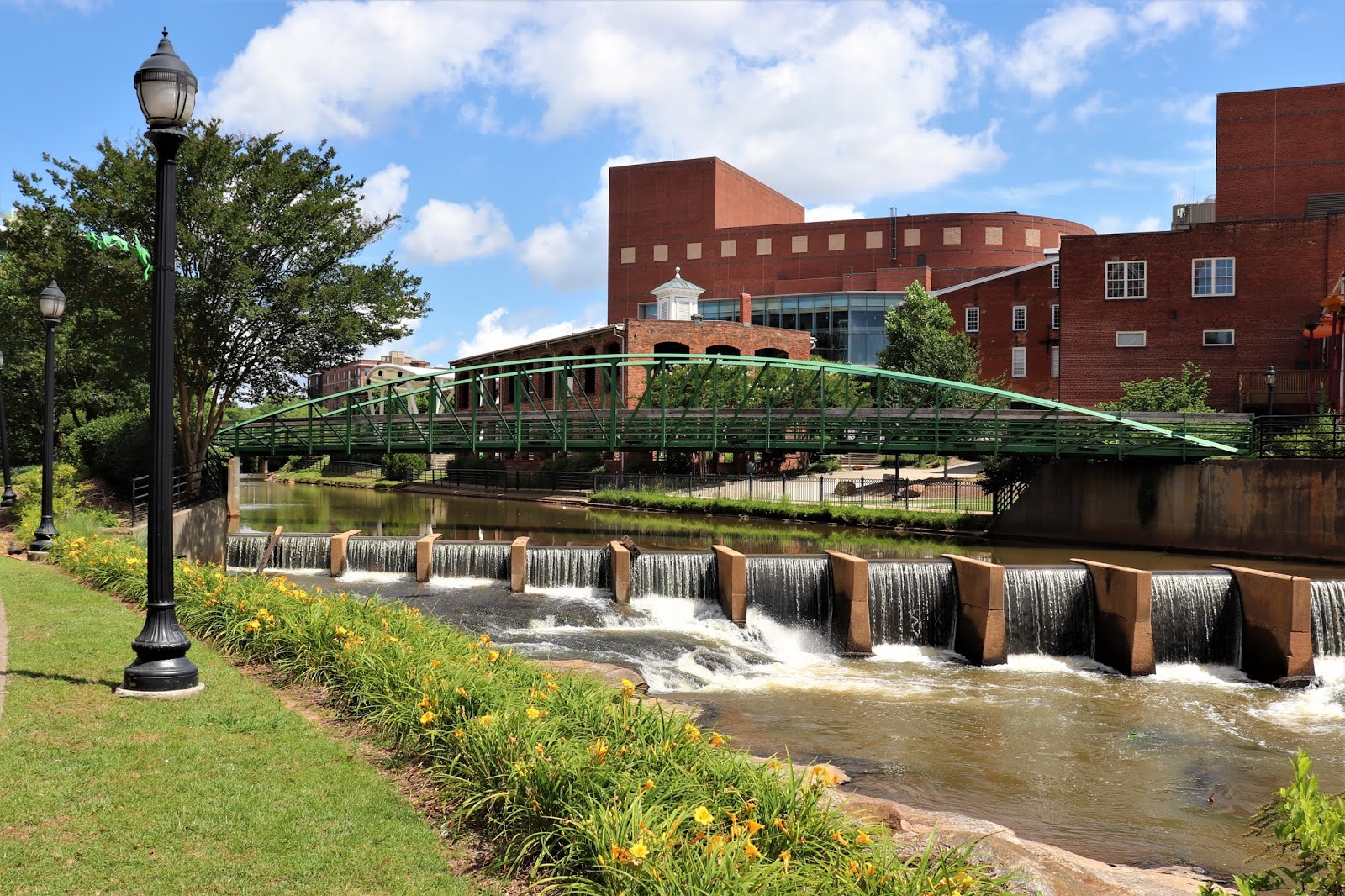 Philip's cousin Karen and her husband Gary live in Greenville, and the Columbia crew of Dennis, Grayson, and Hopp also made the drive up.
Grayson and Hopp were REQUIRED to deliver our 10-month-old grand-niece Millie so we could get some snuggles. She gave Philip the same look of suspicion he's been receiving from all ladies since the beginning of time.
Smack-dab in the middle of downtown, Falls Park on the Reedy highlights a large waterfall, suspension pedestrian bridge, and abundant walking trails and flowering gardens.
I was tickled to finally get to touch the snout of El Porcellino ("The Piglet") for good luck.
We saw the original when we were in Florence, Italy in 2018, but there were hundreds of people crowded around trying to get to him. Here in Greenville, he is mine-all-mine!
Lunch was at the famous Mary's at Falls Cottage. Dating from the late 1800's, it was originally a home, then for many years a service station, and now a delightful restaurant with patio seating, right on the edge of the park.
Also in Greenville, a fun concept in dining: Gather GVL (code for Greenville), a bunch of shipping containers that have been "gathered" and stacked to become one shady outdoor food court, including every kind of cuisine and even beer and wine. Plus: dog-friendly! Score!
It's all there: Chicken and Biscuits, Sushi, Hibachi, Acai Bowls, you name it. But I'm still dreaming of the Roast Pork sandwich from Mike's Cheesesteaks. Italian marinated roast pork, broccoli rabe, aged provolone cheese, on Liscio homebaked rolls. Ahhhhhh soooooo goooooood …..
We camped outside Greenville at Paris Mountain State Park. Formed as a watershed for the city of Greenville, it still sports structures built by the CCC in the 1940's, and a great 5-mile loop trail with lots of elevation gain.
It also sports the world's least level campsite (thankfully not ours), an RV'ers nightmare come to life. Arghhh!
We hosted Karen and Gary for dinner, and the next night they had us to their house.
It's a mere 26 miles from Paris Mountain State Park to Table Rock State Park; indeed, South Carolina has many state parks to choose from in this area.
It's called Table Rock because the Indian legend says that the Gods would sit on the seat (peak on the right) and eat their dinner off the table (rock on the left). Therefore, Table Rock!
A variety of hiking trails lead out from one central location, most with waterfalls and features, a welcome perk as the summer heats up.
The nearby town of Pickens is known for its 1890's-era Easley-Pickens railroad line, which ran all the way until just 2013.
The line was known as The Pickens Doodle because there was no turning track, so it ran backwards as it returned to Easley, looking like a scuttling doodlebug.
The route of the railway was turned into a 16-mile bike path. Since Philip was hit by a car while biking (not once, not twice, but three times over the years), this is the kind of path we prefer … completely off-road and away from cars.
The Doodle Trail also had some unique eye candy off to the side, with political campaigns in full swing. Hey, I'd vote for this guy!
Pickens also had the BEST donut shop we've ever visited. Let me be clear: Philip loves donuts. So this is a the opinion of a seasoned, professional donut eater.
"You Drive Me Glazy" not only wins the award for cleverest name, but also cleverest concept. Using this grid form, you get to pick the glaze, topping and drizzle for your custom mini-donuts.
They are then fried up HOT and FRESH and bedazzled to your liking.
We got them for the following morning's breakfast. But, ya know, we had to try one on the drive back. And then it was very good. So, maybe one more. Repeat. Repeat again. They never made it to breakfast. Sorry not sorry.
Two SC state parks and nine donuts later, we're leaving South Carolina for the second time this trip. We're headed to two more state parks, this time in the mountains of North Georgia!