Trying (and failing) to escape the cold and rain, we next visited Minnesota and its many lakes, rivers, and waterfalls.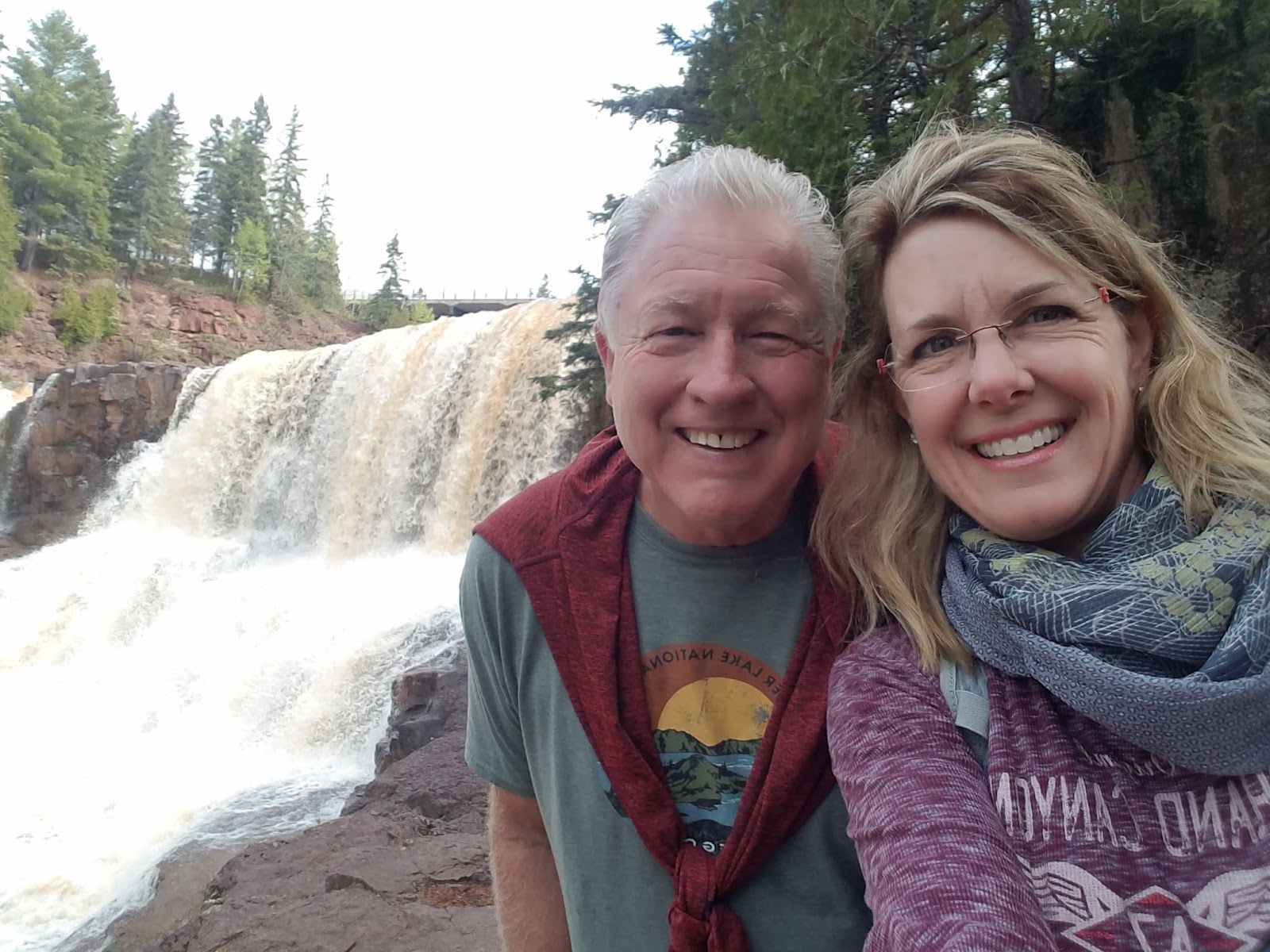 License plates proclaim Minnesota "Land of 10,000 Lakes," but that's only because the more-accurate "Land of 11,842 Lakes" isn't very catchy. Large and small, they've got 'em all!
All these 11,842 lakes are named, and they started running out of the good names around 5,000, so many of them are interesting, curious or just plain wacky.  My personal favorites … Leech Lake, Woman Lake, and Hole In The Day Lake.
 The scenery is gorgeous, although unlike our experience with wooded areas in the West, it's odd to see so many trees with nary a mountain anywhere in sight.
When you are the Land of 11,842 Lakes, it stands to reason that you are also the land of many, many, many fisherman.  Everyone fishes up here! Some communities have "teach a child to read," here in Minnesota they tout their "teach a child to fish" programs. 
The absolute MOST Minnesota thing I ever saw was a sign advertising "Friday Fish Boil to benefit the Pinecone Kickers 4H Club."  Now that is 100% Minnesota, all the way.
In fact, don't try to get a hamburger and a coke through the drive-thru in Minnesota …. drive-thru's are STRICTLY FOR BAIT!
The Mighty Mississippi River begins in Minnesota, with no explanation whatsoever as to why it wasn't therefore called The Mighty Minnesotan River.  It's still quite narrow, however, in these parts.
Minnesota has no shortage of things related to Paul Bunyan. Paul Bunyan Highway, Paul Bunyan Pawn Shop, Paul Bunyan Tattoos and Piercings, it goes on and on. Nobody here seems to think Paul Bunyan was a fictional character.
Their love for him is so complete that I even started to doubt myself and re-googled if he was a real person.  (Update: he still is not.)
To further expound on this great lie, up here Paul even had a sweetheart! Not just a sweetheart … a baby mama! Apparently Lucette gave birth to Paul, Jr. without benefit of wedlock.
Her full name is Lucette Diana Kensack, and she's 17 feet of fabulous lady fiberglass. She was named in a contest (runner-up and my personal favorite: Landa Happy Waters. Get it?).
Take a closer look, though, and you begin to suspect that it's just Paul Bunyan in drag, making her most obvious burlesque name Pauline Bunion.
Minnesota's fictitious heroes are not limited to Paul Bunyan …. don't even get me started on all the Sasquatch cutouts and statues.  And here's (drumroll ….) their next great hero …. "Mossman"!
What is NOT fictional in Minnesota?  Mosquitoes, and ticks!  The #1 cologne in these parts is "Eau de DEET," the main ingredient in tick and mosquito repellent.  You kiss your partner and come away with a greasy smear, but it's all worth it, because at least you aren't getting eaten alive.
Minnesota has no shortages of great bike paths, and over the course of two days, Philip took advantage of the 100-mile route from Brainerd to Bemidji … off road and away from traffic.
They even have these nifty all-in-one bike stations available for use. Pay attention, Arizona … we need these!
We also sampled the Gitchi-Gami Bike Trail (not to be confused with the Gitchi-Gummi Snowshoe Trail) along the coast of Lake Superior, running along its steep cliffs, beaches and crystal clear waters.
Lake Superior, the biggest lake in the world by surface area (31,700 square miles) represents 10% of the WORLD'S fresh water supply! It's THAT big, with water blending into the sky just like at the ocean! T-shirts also tout it as "unsalted and shark-free." Average water temp year-round: 40 degrees!
It has been said that Minnesota has two seasons: "Winter" and "August." We are having a hard time arguing, as we have had lots (LOTS!) of rain and lots (LOTS!) of cold. But that can' stop us from dinners over the campfire!
There is lots of evidence of wildlife in Minnesota … especially the Great Arizonian Beaver!
Even the rain can't keep the Bald Eagles away.
The small town of Ely hosts the International Wolf Center, where (being the only visitors) we got an excellent private presentation all about these beautiful creatures.
They currently have six wolves living at the center in this outdoor home ("assisted living") and the birds are circling because there are six dead beavers recently tossed in for breakfast.
Which reminds me …. "Dances With Wolves" … one of the best movies of all time!
Ely is also home of the Dorothy Molter Museum. Dorothy was an area pioneer who, despite living in a tiny shack on a remote island in the Boundary Waters, was beloved by all for her homemade root beer.
The museum describes her unusual life. Despite being able to reach her only by boat, she still hosted between 6,000-12,000 visitors per year in her humble abode. It musta-been some pretty darn good root beer! Just a few of the paddles with names added to commemorate those who visited Dorothy at Isle of Pines are displayed here.
Even a young Julia Roberts visited her once!
If all this talk about root beer is making you crave some, try this recipe for one of my favorite things! My daughter made this for me one Mothers Day and mmmmm mmmmmm, is it ever good!
ROOT BEER FLOAT FUDGE
1 t. plus 3/4 c. butter, divided
3 c. sugar
1 can (5 ounces) evaporated milk
1 package (10 to 12 oz) white baking chips
1 jar (7 oz) marshmallow creme
1/2 t. vanilla extract
2 t. McCormick root beer concentrate
Line a 9-in.-square baking pan with foil; grease foil with 1 teaspoon butter. In a large heavy saucepan, combine sugar, milk and remaining butter. Bring to a rapid boil over medium heat, stirring constantly. Cook and stir 4 minutes. Remove from heat. Stir in baking chips and marshmallow creme until melted. Pour one-third of the mixture into a small bowl; stir in vanilla. To remaining mixture, stir in root beer concentrate; immediately spread into prepared pan. Spread vanilla mixture over top. Refrigerate 1 hour or until firm. Using foil, lift fudge out of pan. Remove foil; cut fudge into 1-in. squares. Store between layers of waxed paper in an airtight container in the refrigerator or freezer.
Or, if root beer's not your thing, Ely Soda Works has you covered.
Our main reason for the stop in Ely was the "Boundary Waters Canoe Area Wilderness." It's over 1,090,000 acres of watery goodness straddling the U.S. and Canada. In fact, Ely maintains a Customs Office here for all the people entering the U.S. by canoe or kayak!
Most people do 7-10 day canoe trips where they tent camp have to transport their heavy boats, and everything the boats contained, over land (called "portaging") for various distances between multiple lakes. Here, these people have just landed and will carry everything to the other side of the land mass (0.4 mi in this instance) and load up again before paddling off on the next lake.
Boundary Waters was named on the National Geographic's "50 Places of a Lifetime." People travel here for a true wilderness experience — no roads, vehicles, cell phones, or other people, just you and your adventurous spirit and endless water. Not being that adventurous, we were happy to settle for an simple solitary afternoon of kayaking.
Our final MN stop was along Lake Superior at Gooseberry Falls State Park.
Consisting of Upper, Middle and Lower falls, Gooseberry is one of the most popular destinations on Lake Superior's North Shore.
Check the people for scale … Gooseberry Falls are BIG … and LOUD!
It was crazy how close they let you get to the Falls. No guardrails, fences, warning signs, or armed guards at all!
Lastly, in nearby Two Harbors, we toured the first of what will surely be many, many lighthouses along this trip's route, and its porthole view of the working harbor!  
While we've only seen a very small smattering of this beautiful area, it has been enough for us to know that ❤️ WE LOVE MINNESOTA  ❤️  and hope to come back again!
Next, we swing around to the other side of Lake Superior for our one-and-only stop in Wisconsin, and then it's on to Michigan!