I'm just gonna say it. Bakersfield, California is probably not on most people's bucket lists. But if you're a country music fan, there's a good chance it is, and that reason in "The Bakersfield Sound!" The Bakersfield Sound is considered less smooth and a little twangier than that which comes out of Nashville, but arguably no less important in country music history.
Two of the most famous artists to come out of Bakersfield were Merle Haggard and Buck Owens in the 1960's, and Buck Owens' Crystal Palace, a music venue and restaurant, is hallowed ground for fans. The outside looks corny, like every other fake roadside "western town" you've seen in every dusty tourist trap, and I immediately hated it, on moral and artistic grounds.
But the inside was cool and much less objectionable!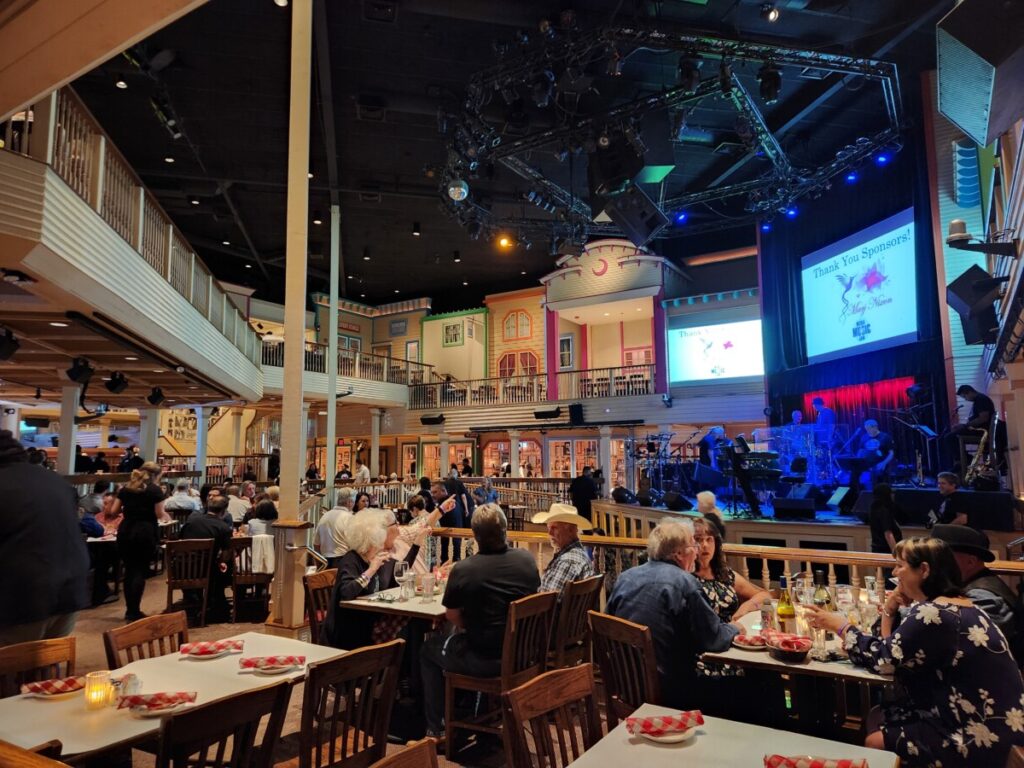 Noted documentarian Ken Burns did a fantastic multi-part series about Country Music, and the episode about the Bakersfield Sound (7 min clip — really good) noted that many artists of all types of music — including The Beatles — credit Buck as one of their important musical influences. Furthermore, he was on Hee Haw. Street cred from The Beatles, and a starring role on Hee Haw? It just doesn't get any better than that.
Apparently, Owens did not favor Nashville music, which he imaginatively called "soft, easy, sweet recordings, and then they pour a gallon of maple syrup over it." He favored the opposite, a sound like a locomotive comin' through your front door. His Crystal Palace is filled with all sorts of music memorabilia like suits and guitars, statues of country legends, and more than 1,100 photos on the walls and stairways.
Even if you are a heathen and don't like country music, the bar itself is a good reason to stop by. The car right there, laying on its side over the bar, is Elvis Presley's 1972 Pontiac convertible. Owens won it at a poker game in Vegas (legend has it that he cheated) and it is truly a sight to see: saddle, silver dollars, pistols, Indians and all!
Owens has since passed away; he gave a concert here in his own venue one night, and went home and promptly died from a heart attack. Crystal Palance still has frequent concerts and events of all types, and royalty like Garth Brooks have even played here. The night we visited was a jam session of local media celebrities, raising money to help cancer victims and their families here in Kern County, and the crowd dancing the night away!
Eagle-eyed readers might have spotted the oil rig in the first photo of the musical artists. Because a city cannot survive by country music alone, thousands (or maybe hundreds of thousands) of pumpjacks are scattered across the hillsides like a gazillion black crickets, playing the primary role in Bakersfield's oil and gas fueled economy. Such a weird sight.
Beyond the Crystal Palace, there's probably not a lot to bring you to Bakersfield in 2023, but starting in 2024, you just might want to come for a meal at the Last Remaining Woolworth's Lunch Counter in the country. Woolworth's and its famous lunch counters gradually disappeared before closing for good in 1997 … except this one last well-preserved location and its gilded signage. It's closed now, but the building's new owner pledges to reopen in 2024, when burger grease and milkshake splatters will once again coat the classic black & white checkerboard linoleum floor.
Downtown Bakersfield has done a good job of surviving the Covid blight that struck many American downtowns, with historic buildings like the Fox Theater worth a drive-by. And, who wouldn't want to see The Big Shoe, billed as "the only shoe-shaped building in America with shoelaces" (a very specific distinction, methinks) but shoelaces were nowhere to be found on this 20×30′ building that conveniently houses a shoe repair shop.
Lastly, in our never-ending search for Muffler Men and Uniroyal Gals across the country, we sought out Ethel's Old Corral, a divey bar with a big biker following, thus rechristening Bakersfield to Bikersfield. Clever, clever!
A classic Indian Muffler Man is out front of Ethel's. (I know it's not cool to say Indian anymore, but I didn't name it originally, so I'm not a-gonna rename it, either.) He used to stand outside a Bakersfield tire store, ostensibly promoting Mohawk and other tire brands with Indian names starting in 1964.
People used to shoot arrows at him, and the kids of the family that owned the tire store had the job to climb a ladder and yank the arrows out of his chest, and also to retrieve them from the roof of the store. And so the Indian joins the giant lumberjacks, cowboys, baseball players, halfwits, and other Muffler Men that we've seen from coast to coast.
Our next stop includes an iconic National Park sign in honor of another Indian, named Seqouyah. Can you guess what it is? OK, maybe that riddle was just a little too easy ….!