From touristy Santa Fe, we transitioned to the sleepier side of New Mexico in Abiquiu. But "sleepy" doesn't mean boring, as we found ourselves sinking into the magic of Ghost Ranch, the creative outpost of celebrated artist Georgia O'Keeffe; and experiencing the mystery and magic of an unbelievable sand cave carved entirely by hand by a different kind of artist, whom we had seen featured on CBS Sunday Morning many years ago.
Abiquiu (pronounced like Barbeque) is a small hamlet 50 miles northwest of Santa Fe. Georgia O'Keeffe, famous artist famous primarily for flower close-ups and Southwestern landscapes, spent decades being inspired here. The village square has only a few remaining relic buildings remaining, but her home and studio are usually open for touring. This area has a seemingly disproportionate concentration of beautiful churches and historic buildings.
It's easy to understand why inspiration – whether religious or otherwise – comes easy in this part of New Mexico. Such was the case for celebrated artist Georgia O'Keeffe, who spent much of her time at the 20,000-acre Ghost Ranch starting in 1929, located in a beautiful canyon surrounded by the red and white cliffs of sandstone.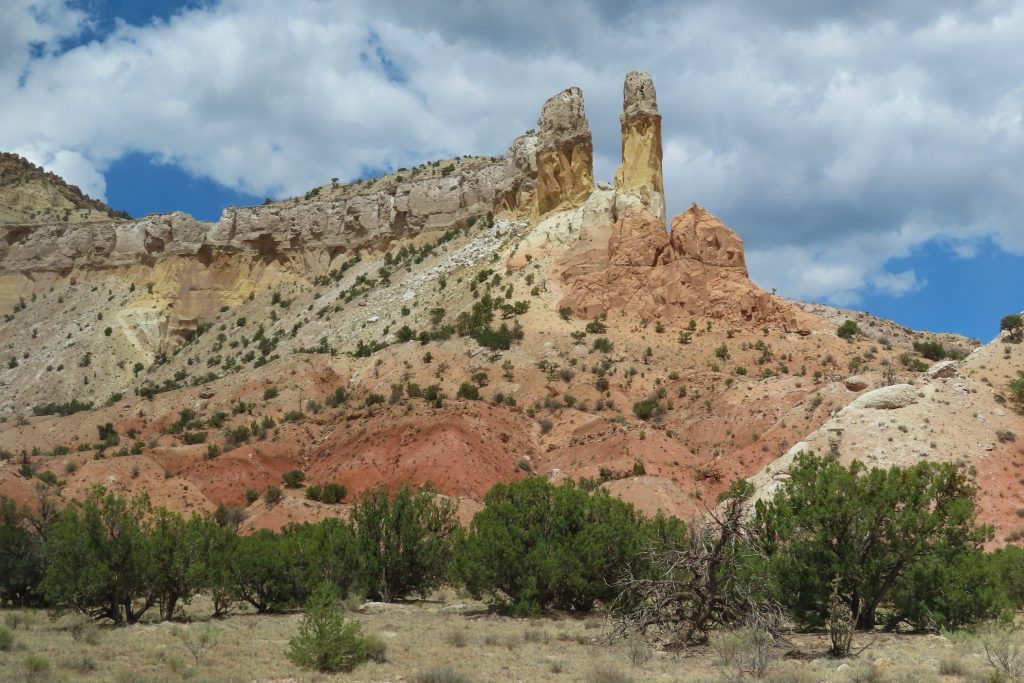 Astonishingly, her equally-famous photographer husband Alfred Steiglitz never once (not once!!) visited her from New York for all the many decades she was in New Mexico (perhaps because he was having an affair at the time, although the time-suck of another relationship did not keep him from exchanging thousands of letters with Georgia, some 50-60 pages long). Though she began as a guest in a small outpost building, her eventual permanent residence remains inside Ghost Ranch, though she has long passed on.
O'Keeffe holds the distinction of the highest-priced painting by a female artist ever sold at auction, for the tidy sum of $44 million, to the fabulously wealthy collection Alice Walton, one of the Walmart founders. It's a white flower. Yup just a white flower. A pretty white flower, but still.
Ghost Ranch is now a retreat owned by the Presbyterian Church, but a variety of tours, classes and trail rides are still offered here. We took the Landscape Tour, wherein we were taken to the locations on-site where she drew inspiration, and concurrently taught about the art that emerged from those locations by a knowledgeable guide.
Example of "the real thing" and "the created thing" …..
While at Ghost Ranch, we hiked the 3 mile trail to Chimney Rock. (Though Chimney Rocks seems to be everywhere, for another really cool Chimney Rock located in North Carolina, check it out here.)
From the tippy-top, views include the entire Chama River Valley, Abiquiu Lake (where we are camping), and the surrounding Jemez Mountains, including Cerro Pedernal (Spanish for "flint hill"), the subject of so many of O'Keeffe's paintings that she once remarked that God told her she could have it for her very own if she just painted it often enough.
From one of the most famous artists, we transition to one of the least famous artists … but no less admirable. Remember when you were a bored little kid and your mom told you to go dig in the yard? Ra Paulette was a Vietnam veteran who came back from the war deeply troubled, and who began digging caves as a kind of self-directed therapy. Can you spot the cave below?
While watching the CBS Sunday Morning news show many years ago, we saw a story about a short documentary called Cavedigger that was nominated for an Oscar that year, and were immediately enchanted.
A little further research divulged that only one of the 20 caves that Ra Paulette dug was available to be visited, the rest being created by commission and located on private properties. And thus a bucket list item was created, and 7 years later on this trip, this dream finally came true when we toured it!
Ra Paulette hauled his trusty wheelbarrow, pickax, and a few hand tools to the jobsite each day for years to create each cave. For us to visit, we had to follow many miles of the same rough, unrefined, rock-filled non-"trail" as he often did. It was rough going … even without a wheelbarrow strapped to our backs!
But the final destination … WORTH IT! And then some! Behold: The "Windows of the Earth" cave sanctuary! Perhaps part of the magic of this visit (although maddening at the time) is that no photos are allowed inside the cave sanctuary to allow participants to fully experience the vibes.
This tour was a "wellness" excursion, complete with hillside meditation, required reflection, lots of self-forgiveness and opening-of-minds and healing-thought-processes and a lot of other elements that frankly seemed unnecessary to us, but hey — you gotta keep an open mind (plus, it's the non-negotiable "price of admission" if ya wanna see the cave). Thus, the necessary aromatherapy/essential oil application before entering the cave.
The artist did not consider his caves to be works of art to be idly admired, but rather to be entered, experienced and transformed by your immersion into them. And although we are not of the "woo-woo" ilk, I have to say that spending time silently reclining with my one true love, in a cozy corner nook of the sand cave, soaking in the spiritual "sound bath" of music created by our leaders on crystal tones singing bowls, and pondering the magic created by one man and his hand tools, was actually surprisingly moving and transformative … and something we will never forget!
Unfortunately, after experiencing the cave, you still have to take the long, rough hike back out the same way you came in. Now that you know what you are looking for … can you find the cave in this photo?
Take a minute and google "Ra Paulette Cave Digger" to view official photos of the insides of some of his 20+ caves — you truly will not believe your eyes! And be sure to check out the documentary itself to be blown away … "Cave Digger" available on YouTube or Amazon.
As we leave this beautiful area of towering red and white sandstone cliffs, blue skies and wide open spaces, nature's majesty and unspoiled locations, there can be no wonder why it has inspired artists and dreamers for centuries. Next, we are heading to Bandelier National Monument to discover what inspired the Pueblo Indians to make their homes here!
Where we camped:   Riana Campground at Abiquiu Lake, halfway between Abiquiu and Ghost Ranch with electric and water hookups (RV Campground also available at Ghost Ranch)