Day 1 (of 146!) dawned clear and bright. This was it … the start of our longest RV trip yet, one we are calling (tah-dah ….) THE GRAND LOOP! Questions abound. Would we dislike being gone that long? Would we get homesick? Would we kill each other? (Nah!) With a friend safely installed in our home for the five months we'll be gone, turning back was not an option!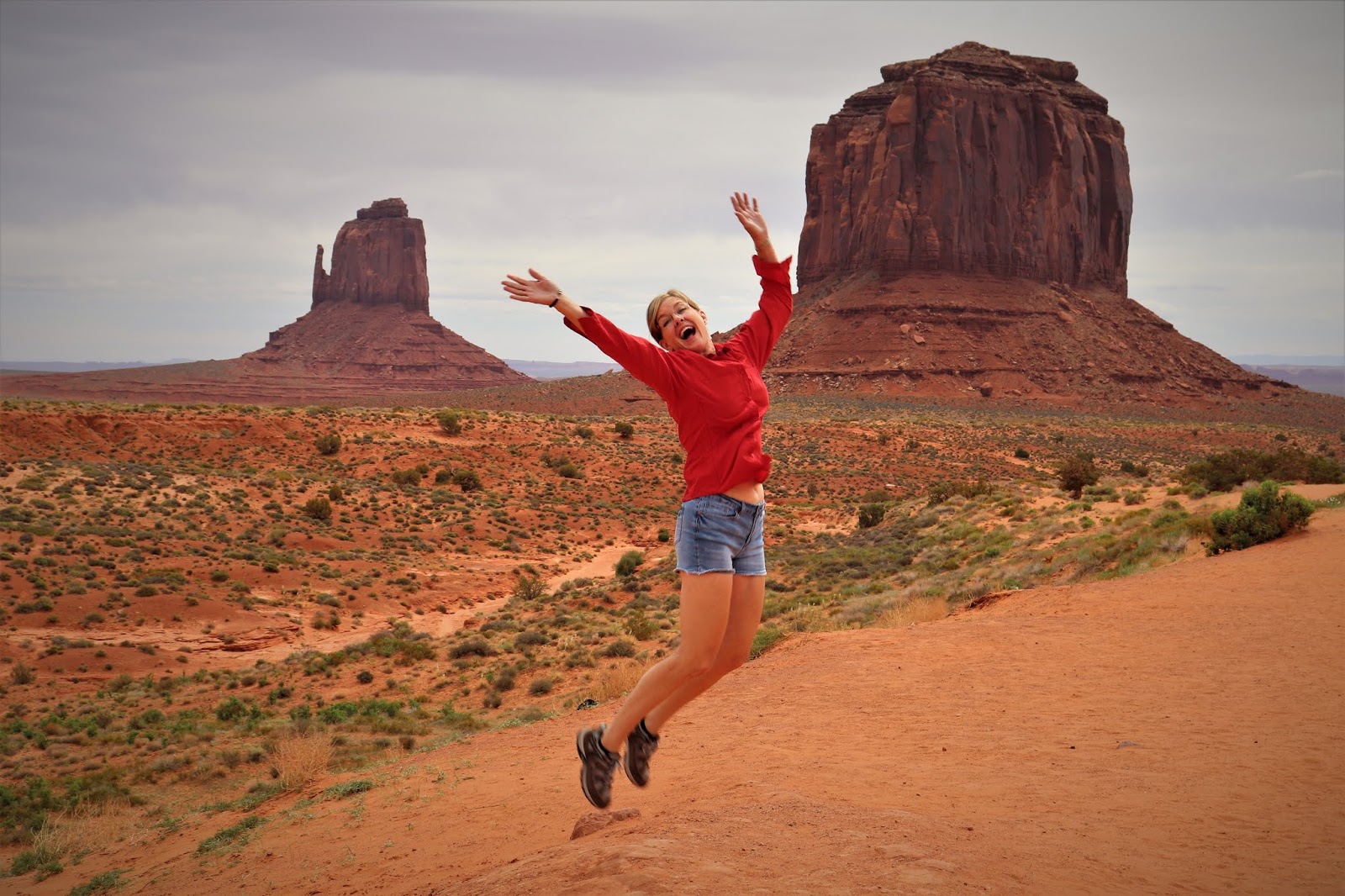 First stop, Monument Valley! This refers most notably, perhaps, as the place that Forrest Gump ended his cross-country run, but more specifically refers to "Monument Valley Navajo Tribal Park," the Native Americans' equivalent to one of our National Parks, but with an earthier gift shop and piss-poor marketing, just over the Arizona/Utah border.
Many famous Instagrammers have posted crazy-cool photos of Monument Valley with lightning strikes, full moons, litters of puppies, aliens in UFO's, you name it, so photographing here is a little intimidating. Luckily, the natural beauty of the surroundings makes up for any lack of creativity on our part.
The Valley Drive is a 17-mile driving loop on a teeth-rattling, rutted dirt road. A guide can be employed to take you around (including areas that are off-limits to the average Joe), but being self-sufficient, and more relevantly: very cheap, we did our own driving tour.
570 million years of erosion by wind, water and ice have chiseled the rock formations into the unique shapes seen here. The East and West Mitten Buttes look like hands, and are said to signify spiritual beings watching over the valley.
The Three Sisters are said to be a Catholic nun facing her two pupils, but how can this be so, seeing as she doesn't have a ruler in her hand to rap their knuckles?
John Ford's Point is named after the Hollywood director who made John Wayne famous in the many movies filmed here, including The Searchers and Stagecoach. $5 to take a photo on their horse. Genius!
The many blooming wildflowers further enhanced the beauty of the red rocks. Someone once said, "it's enough to make you quit your job as an accountant and become a cattle rustler or cinematographer!"
Venturing further down the road to Moab, we first visited Canyonlands National Park, with sweeping views rivaling the Grand Canyon, and very few visitors. Score!
Moab is home to not just one, but TWO, gorgeous National Parks. Whereas Canyonlands is deserted, however, Arches National Park is packed. Because of its proximity to a city, and wide variety of relatively short hiking trails leading to astounding natural beauty, the entrance line can last hours.
We went at 7 AM (Arches is open 24 hours a day) on a cloudy day to beat the crowds (it worked).
Here are just a few of the cool formations we visited in Arches National Park.
Be sure to look for the tiny humans for a sense of scale!
Delicate Arch, so popular that it's on the Utah license plate.
Double O Arch, with one above and one below.
Landscape Arch
Partition Arch, with beautiful views of the valley below
These are called fins
The Three Gossips (not naming names)
Snowy La Sal mountains in the distance … in August it can be 108 degrees in Moab, and 28 degrees on those ranges!
The downside to (most) National Parks is that they do not allow dogs on the trails. Luckily, in Moab there is plenty of BLM real estate with great trails on which Sprinkles and friends are welcomed.
Corona Arch, also called Little Rainbow Bridge, is one of the largest and most spectacular arches in the area (and it's not even inside Arches NP). The parking lot and trailhead are right along the river campground.
Though the hike is only 2.5 miles and fairly easy, it does involve a few portions of scrambling over slickrocks …. (see the tiny people?) ……
… and a couple chain-rails and ladders. Here Philip demonstrates.
Getting closer, and thinking, hey that's not very big at all.
Cue the disappointment.
But wait! It's a psych-out! It's all in the scale and perspective!
Get closer, and it's …. HUUUUUUGE! That's a tiny "me" on the rock!
Can't even get it all in the selfie!
The Corona Arch hike was a "dog-gone good time!" Highly recommend!
Moab is one of those outdoorsy places with very few residents, but tons of visitors. They come for the outstanding outdoor recreation, meaning every roadside has granola-bar eating young'ums climbing rocks, jumping on mountain bikes, and throwing small watercraft into fast-moving waters.
A non-scientific estimate would be that 80% of the vehicles in Moab are ATV's, Razr's, and Jeeps. Not just any Jeeps. Expensive, lifted, outfitted and bedazzled Jeeps come from far and wide to crawl on the rocks and race in the dunes. It's so outdoorsy, that this is a "Moab Motorhome!"
30+ miles of continuous off-road, challenging bike paths had Philip's name on them!
And the views from the Colorado River couldn't be beat!
E.T., phone home!!!! (see it?)
Our visit to southeastern Utah was brief, but we're eager to continue down the road! The next two days we'll travel through Colorado and Wyoming, where forecasts are bleak and snow is likely!
For now, Philip and I will say not "goodbye" but "see you again sometime" to Moab!