June, 2017: The Lucky Charm's 2017 Summer Adventure has arrived! With 4,251 miles tooling around Idaho, Washington and Oregon (route map at the end of this post), we are super excited to explore the Upper Northwest!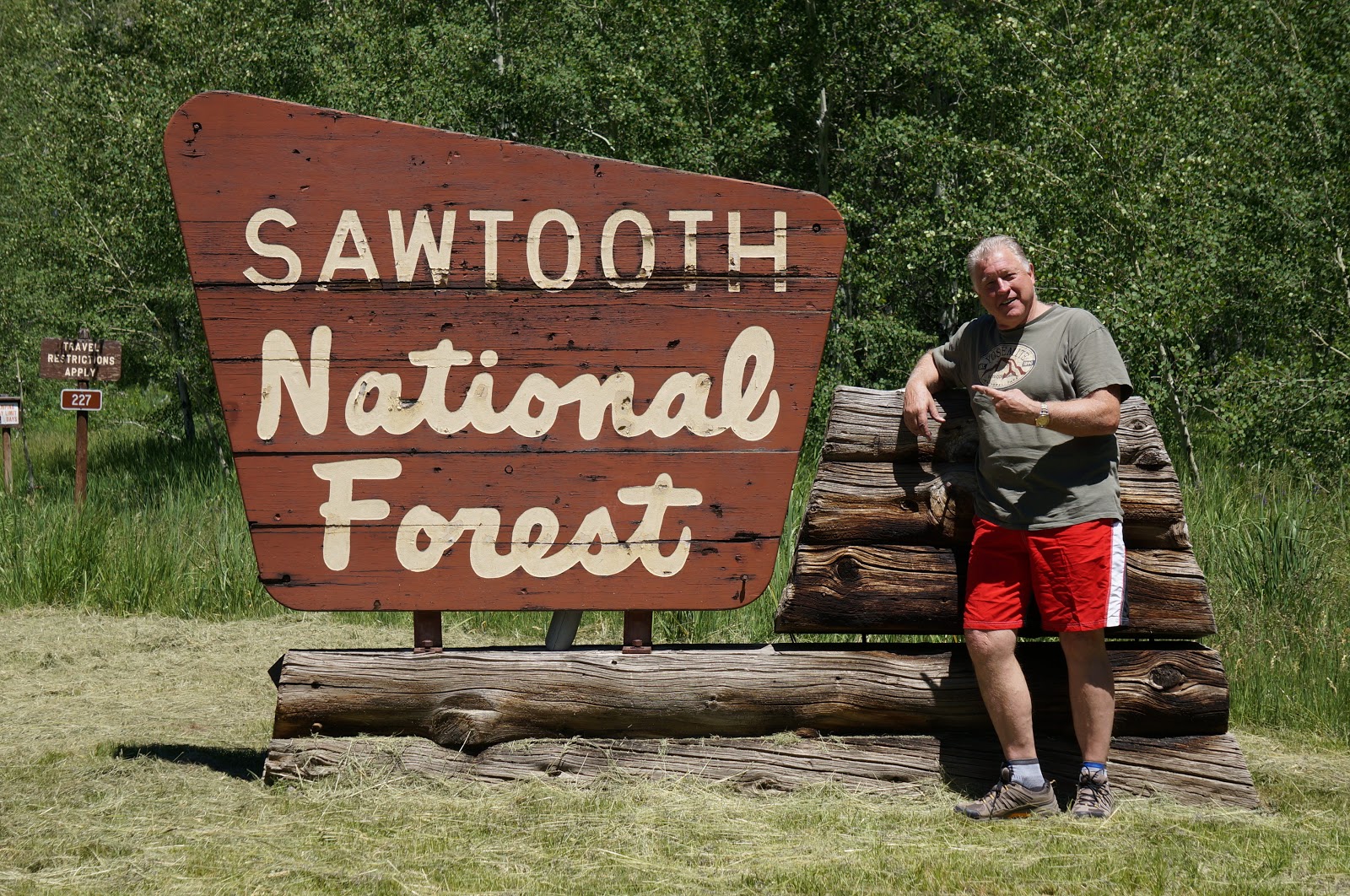 Snow-capped mountains ringing Idaho's Sun Valley area welcomed us, where it is well-known for winter skiing but equally beautiful in the sleepy summer months.
It's a spendy place, where teenagers run around town unsupervised wearing Hard Rock Marseilles t-shirts and spending their folks' cash on $24 bison burgers. There are also lots of hippies around town though, leading us to surmise that they must be the select few hippies that invented the tye-dye smiley face shirt and became rich — otherwise how could they afford to live here? Luckily, RV parking is cheap!
The Lucky Charm's Ketchum home was delightfully located next to the "Big Wood River," which name elicited snickers from my husband's alternate 9-year-old self. The Big Wood River Trail is a great 20-mile trail which gets a lot of use from townsfolk on their $5,000 road bikes or wearing their Lululemon walking clothes.
Some people just can't follow simple instructions!
Because we live in "Spur Circle" in Scottsdale, I always take photos of spurs and spur-related things on our trips. I did NOT expect the first one on this trip, however, to be a huge art installation along the bike path, entitled … wait for it, wait for it …. "Spur." WHOA!
Although it looks like a dinosaur carcass, it was created by artist John Grade and recently displayed at nearby Craters of the Moon National Monument. "Spur" refers not only to the geology of Craters, but also to the history of the railroad in this Wood River Valley, and the horizontal tracks that run the length of the sculpture highlight the critical role of the railroad in development here. OR, he just wanted to make a dinosaur carcass and needed a story that the local Art Commission would accept.
Our love affair with hot springs started in Steamboat Springs' Strawberry Park Hot Springs a few summers ago, and we were eager to try a super-rustic hot springs (meaning, completely undeveloped and out in nature) here in Ketchum. Uh-oh!!!!
With a heat wave in full swing, the rivers were a-ragin' from snowmelt and the hot springs was buried under cold and fast currents. You can see the trickle coming down the mountain in the background of this shot. Normally, there would be a small pool created by rocks where you could enjoy natural 100 degree water. Plan … officially thwarted!
What we missed in hot-springin', however, we made up in wildflower-hikin'! Woo-hoo!
The Adams Gulch network of trails is just outside town (drive past 42 mansions and take a right at the one that is so huge it looks like a hotel) and has something for everyone. Highly recommend!
Ketchum's most famous celebrity resident was only there for a few years in the late 50's and early 60's, but can still be visited today.
Visitors to Ernest "Papa" Hemingway's final resting place leave touching tributes, generally involving booze bottles and cigars, but also coins and flowers.
He is buried in the Ketchum Cemetery next to his fourth wife Mary, the poor soul who had to deal with him in what were his worst health years, when he was confused, on the verge of a breakdown, and suffering from high blood pressure, diabetes, severe liver disease (can you say HEAVY DRINKER) and ongoing depression. Yikes!
Mary tricked him into going to the Mayo Clinic in Minnesota not once, but twice, for long rounds of electro shock treatments. He was constantly paranoid and believed he was being watched by the FBI (well, that was true) and in 1961, committed suicide in his house in Ketchum by shooting himself in the head with his beloved double-barrel shotgun.
During his last years, his behavior was similar to his father's, who also killed himself; two of Hemingway's four siblings also killed themselves. It is now believed that they all suffered from a genetic disease called hemochromatosis, in which the body's inability to metabolize iron basically makes you bat-shit crazy with mental and physical deterioration. That explains it — genetics run amok! There is also a Hemingway Memorial east of town.
Wanna-be playwrights leave copies of their galleys here for divine inspiration and hopefully a PR-boost from beyond. Philip read a few pages and found it "wordy." i.e. filled with words. Coming soon to a theater near you ??? : "The Triad" by Jason Sinclair Astorquia. I googled him and he's a painter/artist as well, despite getting an apparently unnecessary degree from Yale in Applied Mathematics.
The final stop of Hemingwayapalooza was one of his favorite watering holes, Whiskey Jacques, because we are firm believers in thorough research, not because we are boozehounds.
Our Ketchum visit was capped off with an area farmers' market and "Ketchum Alive," a cleverly-marketed weekly outdoor concert where the locals got all jiggy wit' it.
Traveling the back roads (as opposed to highways) when possible not only makes for less white-knuckling when driving a 33-ft RV with tow vehicle attached, but also allow for charming sights we would never see otherwise. As always, we are loving our temporary life and all its variations!
Back on the road again …. next stop — McCall, Idaho!
Official Summer 2017 Route: