We left Bisbee (if you missed the first half of this trip, you can catch up here) and headed up the road 30 minutes to Tombstone, which is the site of the famous "Gunfight At The OK Corral." I imagined a kind of tourists' hell, with every stupid, overpriced, cornball experience imaginable, and carnival-style hawkers accosting us from every doorway and street corner to come visit their t-shirt shop or watch their stagecoach robbery or drink their sasparilla. Imagine my surprise when the truth was: I loved Tombstone!
Don't get me wrong … it is definitely touristy. But it's a kind of amusing, kitschy, enjoyable touristy that was a lot of fun. It feels both authentic and designed-to-delight, at the same time.
Before the trip, Philip insisted that we should know our history by watching not just one but two movies: "Tombstone" (Kurt Russell, Val Kilmer) (RUNNING TIME 134 MINUTES) — and also "Wyatt Earp" (Kevin Costner, Dennis Quaid) — (RUNNING TIME 291 MINUTES) — eeeek! Both of these movies take significant cinematic liberties, but I do have to admit they definitely enhanced our enjoyment of the town.
We loved our historical walking tour with "Dr. Jay," a retired dentist who now works as an actor and definitely knows his Tombstone history, which is presented in a very entertaining way.
We watched a re-enactment of the famous Battle of the O.K. Corral and cheered and booed along with the crowd. 
We were particularly interested in the fact that Wyatt Earp and Doc Holliday were not necessarily the "good guys" and the Clanton & Co. cowboys were not necessarily the "bad guys," but rather they were all a bunch of hooligans and ruffians and schoolyard bullies who really just wanted to avenge a bunch of town gossip and badmouthing of each other. Who knew that the Battle of the OK Corral is basically repeated in every South L.A. high school pretty much every day of the year?
There are lots of fun things to do in Tombstone, including trolley tours, visiting the Boothill Graveyard, mine tours, ghost tours, stagecoach tours, and the Rose Tree Museum, home to the world's largest rose tree, which is over 120 years old, still flowering and which covers 8,600 square feet.
BUT if you only do one thing in Tombstone, it should be to visit the Birdcage Theatre, a frequently overlooked and fascinating place. This combination theatre, saloon, gambling hall and brothel was closed up, fully furnished, in 1889 and was not opened again until 1934, when the new owners were thrilled to find everything left "as is" and undisturbed, as it remains today, with wineglasses tipped on their sides and jackets hanging on the back of chairs. You can wander through at your own pace and stay as long as you like, imagining what it would have been like to be there during those crazy days of the late 1800's Wild Wild West. It is supposedly haunted and certainly feels incredibly eerie and mysterious to step back in time. DO NOT MISS IT if you go to Tombstone!
Alas, we only had one afternoon to spend in Tombstone, and the Lucky Charm was back on the road, heading to Picacho Peak, two hours north and about 1-1/2 hours south of Phoenix. Destination: Rooster Cogburn Ostrich Ranch. Really? An ostrich ranch? YES. An ostrich ranch. Where we had the BEST time — our favorite event of a really fun trip.
We had a blast riding in their mega-monster truck as it ripped through the desert.
We learned a million fascinating things about ostriches (for example:  you CAN eat ostrich egg, but one egg is the equivalent of two dozen chicken eggs — so you better invite a lot of friends to join you!).
We went ostrich-fishin' – feeding them fruit on the end of a long pole as they fought each other for the goods.
We got to feed lots of different kinds of animals — donkeys, deer, goats, prairie dogs, ducks and more — some via very clever delivery methods!
And our favorites — the lorikeets! They were NOT shy!
The following morning, we went to a Civil War in the Southwest Re-Enactment at Picacho Peak State Park. Did you know that Picacho Peak was the site of the western-most battle of the entire U.S. during the Civil War? Every year at this festival, three historic battles are re-enacted, and it was cool to see their authentic costumes, artillery and Civil War camps up close. Besides the re-enactments, a variety of exhibits and demonstrations really bring the Civil War to life!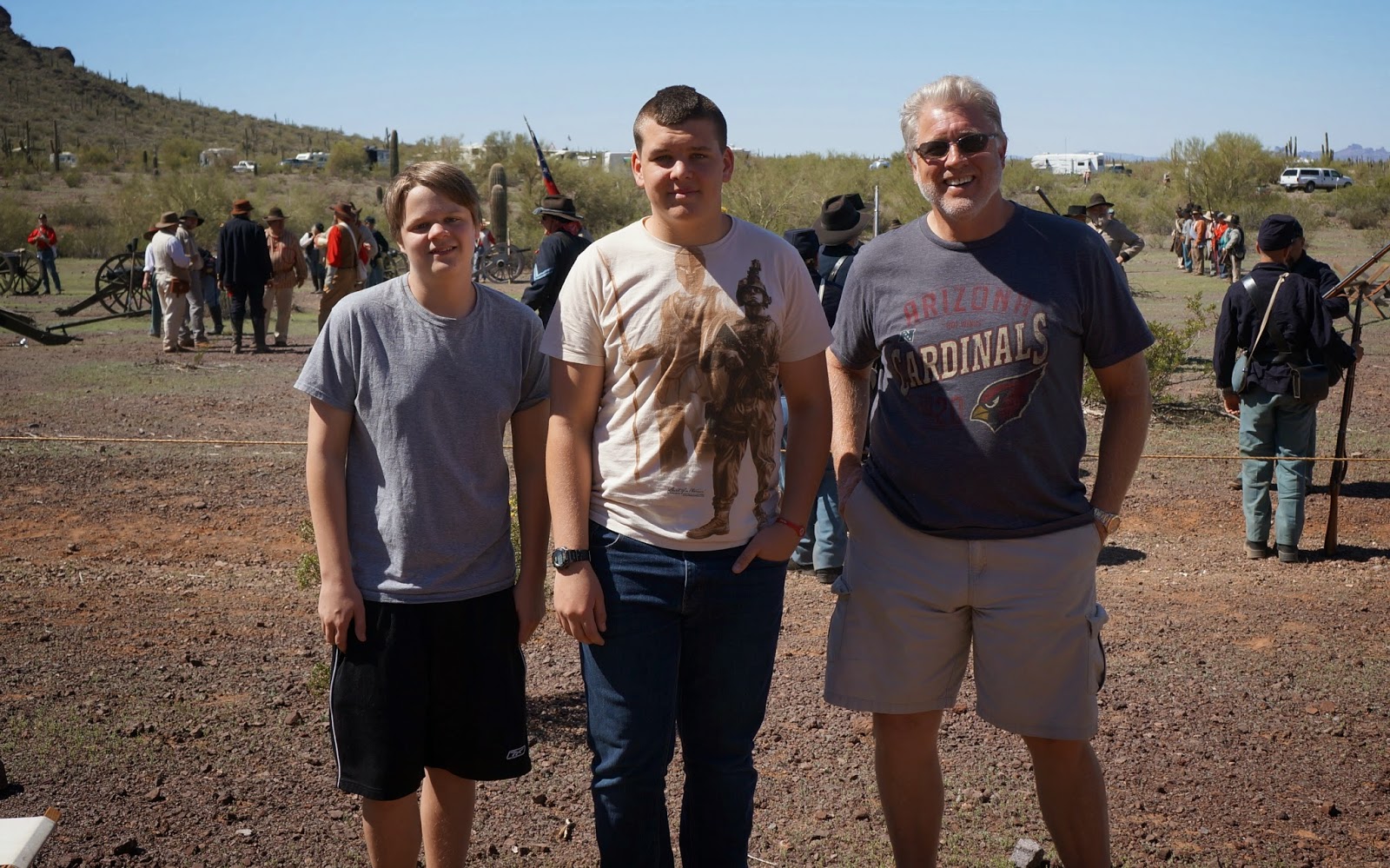 Alas, our trip back in time came to a close and the Lucky Charm returned back to home base. We loved this trip and exploring more about Arizona and our history of miners, cowboys and soldiers!